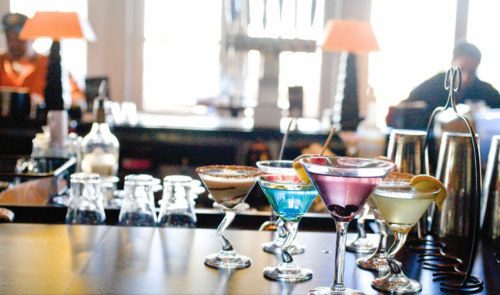 Houlihan's Restaurant & Bar
San Francisco dining is known for it's diversity and unique flair, and you will certainly find that at Houlihan's Restaurant & Bar.
Houlihan's in South San Francisco is located in the Holiday Inn SFO airport and is your place to wine and dine in San Francisco. Whether you're looking for a great meal for lunch or dinner, or just a place to unwind with the city's best happy hour, the South San Francisco Houlihan's restaurant provides a great dining experience. Drink up their happy hour specials, check out the current happenings or just find your favorite item on our menu.
A scintillating choice in urban casual attitude with a "from-scratch" American cuisine, Houlihan's captures the lively energy of the San Francisco restaurants scene on the plate and in the atmosphere. Get the evening buzz at their our sports bar with seven HDTV's and enticing Happy Hour specials, then tuck in for a plate of kicked-up American favorites. Whether its top sirloin basted in red wine butter or tender grilled shrimp kissed with tomatillo, freshness and flavor are always on the menu.
More than a place to kick off the evening, Houlihan's is open from 6:30 a.m. to 11:00 p.m., and their breakfast and lunch specials are no less spectacular. Houlihan's is kid friendly too. Bring the whole family in and fuel-up for a day of fun in San Francisco with a hearty breakfast. Remember, to ensure a reasonable San Francisco hotel dining experience, the Kids Eat Free!*
Got the craving but not the time? No problem! The hotel restaurant offers a full room service menu from 6:30 a.m. to 11:00 p.m. so you never have to go without. It's no wonder Houlihan's is one of the top restaurants near SFO.



Hours
Breakfast : Daily 6-10:30am
Sun-Thu 11:00am-11:00pm (bar til 11:30pm)
Walk-ins Welcome!
Patio Seating Available!