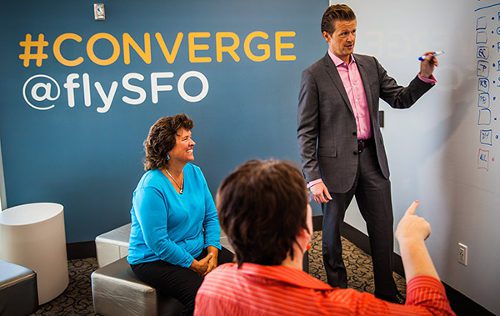 #Converge@flySFO is a space set aside at the San Francisco International Airport for forward-thinking travelers to come together to exchange ideas. Walk right into the #Converge@flySFO space and you will find others there to talk to about just about any topic.
 The Bay Area is teeming with creative people who are full of ground-breaking ideas. Meet at #Converge@flySFO to share and collaborate on ideas in real time and in real life. What a concept!
The #Converge@flySFO room is located in the International Terminal near Gate G93. It is equipped with free wi-fi, tables, chairs, power outlets, a white board and a magnetic chalk board.
#Converge@flySFO:
Location: International Terminal, Boarding Area G near Gate G93
Join the conversation Look for #Converge@flySFO on Twitter, LinkedIn, Instagram, Facebook and Foursquare
How To Use It
So how does #Converge@flySFO work? You can either walk-in and take your chances on randomly meeting someone interested in your idea, or you can do a little shameless online self-promotion in social media outlets in advance of your travels.
Walk-in
Write your topic of conversation on the wall with your seat location or description and what time you have to leave to catch your flight. Please make sure it is the whiteboard wall and not the regular painted wall. Also please make sure you use the markers provided.
Twitter
Follow SFO on Twitter @flySFO. Use the hashtag #Converge.
LinkedIn
SFO on LinkedIn. Search for SFO, and select the corporate page www.flysfo.com. Then join the #Converge@flySFO group. Post your travel schedule and what your interest is, and let other group members interact.



Instagram
Follow SFO on Instagram. Post an image of your idea or topic of conversation and use #Converge and tag @flySFO.
Facebook
Like #Converge@flySFO on www.facebook.com/flySFO. Post your discussion topic to their timeline along with your flight info and what time you plan to be at #Converge@flySFO.
Foursquare
Check in at the #Converge@flySFO community space. Tell your fellow foursquarers your information. Add the hashtag #Converge and share on Twitter and Facebook.